Product at a glance

• Complete security for remote offices and telecommuters
This high-performance security appliance integrates a fiewal, VPN, and traffic shaping in a single unit for smafl offices and telecommuters.
•Available for 10-users or 25-users
Two configurations depending on user needs and a migration path from 10 to 25 users as network needs expand.
• Easy to install
The NetScreen-5 features a menu-based, wizarddriven installer so even non-security experts can complete the necessary steps in just a few minutes.
• Centralized monitoring and management
Ongoing monitoring and management of the NetScreen-5 can be centralized providing alarms and diagnostics as well as configuration updates, software 1 version upgrades, and reporting. *

Product overview

NetScreen-5 is on Internet security appliance integrating firewall, virtual private networking (VPN) and traffic shaping functionality. It features wire-speed Ethernet performance for remote offices and telecommuters. The NetScreen-5 enables enterprises and service providers to deliver secure, cost-effective Internet connections to remote offices and telecommuters, like all NetScreen appliances, it can be easly configured and managed through a web browser, CLI, or centrally managed with NetScreen Global Manager. The NerScreen-5 belongs to a suite of integrated security products that have been optimized for performance and ease of use in a full range of business environments.

Firewall

NetScreen-5 provides a secure firewall solution for protecting a single user or a small LAN from the outside world in a single dedicated hardware appliance. NetScreen-S's Mi-featured firewal uses technology based on stateful inspection.
NetScreen's custom-built ASIC processes the firewal access policies and encryption algorithms in hardware, making it significantly higher performance than a software-only solution. The NetScreen-5 meets the performance needs of even the most demanding remote environments.

VPN

NetScreen-5's integrated VPN solution extends Intranet/Extranet security reach over pubic networks to remote and branch offices providing consistent UNMAN security across the network. This is accomplished through the use of encryption of data transferred over the wideurea using the industry standard IPSec protocol. NefScreen's IPSec implementation is interoperable with other vendors that have implemented standards-based IPSec.

Traffic shaping

NetScreen-5's traffic shaping allows an administrator to monitor, analyze and allocate bandwidth utilized by various types of network traffic in real time. Applications and users can be prioritized using IP address or other criteria for providing different levels of service.
Easy installation and deployment The NetSaeen-5 features a simple, wizard driven interface for easy installation by non-security experts. For enterprises or service providers, the software installation application, QukkStart, can be used to configure one or multiple NetScreen-S appliances concurrently. NetScreen abo provides a web-based application and CU that provides even greater flexibility in configuration.
Centralized management
The NetScreen-5 can be easily and securely managed individually through a web browser, CU, or it can be managed centrally with NetScreen Global Manager. Global Manager is a key application for network managers responsible for multiple NetScreen appliances, as it provides for centralized concurrent configuration, monitoring, and management of up to 1,000 devices.
---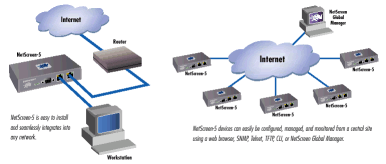 Netscreen Product warranty and services

Netscreen-5's standard hardware warranty is for a period of one year. The system software has a 30 day warranty that it will meet published specifications. Optional service poducts are also available such as extended hardware and software warranty. These products are recommended to ensure the system is kept updated with the latest software enhancements and to ensure high availabality for end-users. Phone support services and training courses are also available from NetScreen.
Specifications:
Users
Available for 10 users or for 25 users
Performance
Advanced firewall policies and VPN encryption (IPSec) at up to 10Mbps
VPN
10 concurrent VPN tunnels, IPSec standard security, 56-bit DES, Triple-DES (where allowed by low) encryption, key management manual and automated - IKE (ISAKMP), oufhentKGtion: MD5, SHA-1
NerScreen has tested the NetScreen-5 with other vendors VPNs for compotibililY enabling coexistence in a murnvendor network.
Checkpoint VPN-1 using IKE
Raptor firewall using manual key
See www.nerscreen.com/pub/matrix
Firewall
Network address translation (NAD, transparent mode, stoteful inspection, real time alormkig, and logging. ICSA certified.
System Management
Web based configuration or mulfrsite management via CLI or NetScreen Global Manager
Traffic Shaping
Guaranteed bandwidth, maximum bandwidth, traffic prioritization.
DHCP Server and Client
Dynamk IP address assignment by DHCP server or request for IP address by client for doss C network.
Standards Supported
ARP, TCP/IP, UDP, KMP, DHCP (server and client), HTTP, RADIUS, IPSec (IPESP), MD5, SHA-1, DES, Triple-DES, IKE (ISAKMP) TFTP (client) SNMP, NTP
Interface
Two 10 BaseT Ethernet ports: (Trusted, Untrusted), RS-232 diagnostics port
Software Upgrades
Via web browser or TFTP Server
Power
DC Power, input 5V, power assumption 7.5W
Dimensions
5 inches (L) x 6.2inches (W) x 2.1 inches (H), weight lib.
Certification
FCC,UL,CE,CUL,ICSA
Environmental
Temperature: 40-105 degrees F, 5-40 degrees C, Humidity: 5-90%, norKondensing

Ordering information
Product Part Number
NetSaeen-5 10 User
NetScreen-Sa* US Power cord NS-Q05-001 NetSaeen-Se US Power cord NS-005-002 Export model (56 bit DES only)
KetSaeen-5a UK Power cord* NS-00 5403 NetSaeen-Se UK Power cord NS405-Q04
-Export model (56 bit DES only)
HetScreen-5a Europe Power cord* NS-005-005
NetScreen-5e Europe Power cord NS-005-006
-Export model (56 bit DES only)
Upgrade from NetSaeen-510 Users to 25 Users NS-005-25U
NetSaeen-5 25 User
te6creen-5o* OS Power corf HS-W5-25! HetScreen-5a US Power cord (5 Pad) NS-005-251-5PK NetScreen-5e US Power cord N9005-252 Export mode! (56 bit DES only) NetScreen-Se US Power cord (5 Pack) NS-005-252-5PK
-Export model (56 bit DES onry)
NetSaeen-Sa UK Power cord* NS-005-253 NetScreen-5a UK Power cord* (5 Pack) HS-005-253-5PK NetSaeen-Se UK Power cord NS005-254
-Export model (56 bit DES only)
NetScreen-5e UK Power cord MS-005-254-5PK
Export model (56 bit DES only) (5 Pack)
NetScreen-Sa Europe Power cord* NS-005-255
NefiaeerhSa Europe Power cord* (5 Pock) NS-005-255-5PK
Net$creen-5e Europe Power cord HS005-256
-Export model (56 bit DES only)
NetScreen-5e Europe Power cord NS-005-256-5PK
-Export model (56 bit DES only) (5 Pock)
International shipment requires export authorization form for each end use customer.
For more information on NetScreen products, coll toll-free 1400*638*8296
©2000 NetScreen Technologies, Inc. All rights reserved. Information in this document is subject to change without notice. NetSaeen Technologies, Inc assumes no responsibility fof errors that appear in this document. NetScreen Technologies, Inc, the NerScreen fogo, NetSaeen-S, 10 and 100, and NetScreen Global Manager are trademarks of NefScreen Technologies, Inc. All other trademarks and registered trademarks are the property of rhek respective companies. Literature Part Number 2€00.2.15.2.5